Donald J. O'Neill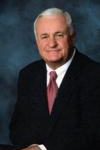 Donald James O'Neill, 79, of Plymouth, MA and formerly of Cohasset, MA, Osterville, MA, and Naples, FL passed away on January 1, 2017 after an inspirational three year battle with Acute Myeloid Leukemia.
Born in Boston and raised in Milton, MA, he attended Cathedral High School in Boston. He earned his own way to graduate from Boston College in 1959 with a Bachelor of Arts in Economics, where he also played on the Boston College Men's Ice Hockey Team under the direction of Coach Snooks Kelly.  He went on to graduate from a two year program at the Boston Architectural Center, concentrating on his architectural talents which became the foundation for his career in the real estate development and construction industry.
Donald married his wife, Sally Ann Oldfield, also a Milton resident, in 1960 and together they raised four children.  His greatest strength was his unwavering love and admiration for his family.  He took great care of his family and taught his children by example to be respectful, hardworking and have an entrepreneurial spirit.
He founded many companies which included O'Neill Brothers Construction, Steel Span, Condyne, Inc. and CD Realty, Condyne Freezers, Condyne Logistics and many Condyne Affiliated Companies.  His strong work ethic developed these businesses into successful enterprises throughout New England and into one of the region's leading design build firms.
Donald was a gentleman of the first order, always smiling and emanating a respectful and positive demeanor to all that crossed his path.  His positive outlook on life even in adverse situations was admirable.  He was most generous in assisting other people in times of need.  He had the ability to solve problems, find solutions and lead others.
Through the many places he lived and his interests, Donald collected wonderful and sincere friends.  He had a love for his alma mater, Boston College, for which he served on the Real Estate Council for many years and provided his continuous generosity.
Donald enjoyed golf, fishing, boating, coaching, spectating at his grandchildren's events, architectural drawing and home improvement projects of all sorts – whether for himself or others.  He was a member of Kensington Golf Club in Naples, FL and the Pine Hills Golf Club in Plymouth, MA.
He is survived by his loving wife of 56 years, Sally Ann. Beloved father of Darilynn A. Evans and her husband Lawrence of Cohasset, MA, Wendy A. Addison and her husband Bruce of Portsmouth, NH, Donald F. O'Neill and his wife Barbara of Cohasset, MA and Jeffrey C. O'Neill and his wife Pamela of Westwood, MA.  Proud grandfather of 11 grandchildren:  Corey Besinger and her husband Edward, Marissa Devnew and her husband Alexander, and Geoffrey Evans, Kendall, Cole and Tucker Addison, Madigan and Callahan O'Neill, Jamison, Christian and Ethan O'Neill.
Brother of Frederick O'Neill of Lincoln, NH, Sister Nancy O'Neill of Wilton, Ct. and the late Frances Gillis.
Family and friends will gather to celebrate Donald on Monday, January 9 during visiting hours from 4:00-8:00 PM at Dolan Funeral Home, 460 Granite Avenue, EAST MILTON SQUARE.  A Mass of Christian Burial will be celebrated Tuesday, January 10 at 11:00 AM at St. Mary of the Hills Church, 29 Saint Mary's Road, Milton, MA.
Donald's family is proud of the courage he exhibited through his illness and his willingness to participate in trials to help future patients.
The family is grateful for the care he received at both Dana Farber and Beth Israel Deaconess-Plymouth and ask that in lieu of flowers a donation gift in his memory may be made to Dana-Farber Cancer Institute to support Dr. Stone's Leukemia Research Fund at Dana-Farber Cancer Institute, P.O. Box 849168, Boston, MA 02284 or via www.dana-farber.org/gift or Beth Israel Deaconess Plymouth Cancer Center honoring Dr. Debra White and her team, 275 Sandwich Street, Plymouth, MA 02360 or via www.bidplymouth.org/donate-now.