William T. Rehm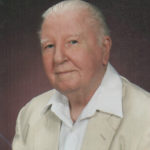 William T. Rehm, of Milton, formerly of Jamaica Plain and Brockton, January 29, 2017.
Bill is survived by his loving wife of 42 years Mary Lou (Kerns) Rehm. Son of the late George and Luella (Bacon) Rehm, brother to the late George Rehm of California, Mary Rehm of Jamica Plain, Anna Rehm of Brockton. He is survived by his nephews Frank (George) Rehm and his wife Mary of Antioch, CA. Robert Keyes of Pittsfield, Brian Keyes and his wife Lena of VA. Ted (Edward) Keyes of California, David Kerns of New York. He is also survived  by his loving niece Sarah (Kerns) Reichel and her husband Kenny of Quincy.
Bill was born September 9, 1925 in Boston, graduated from Mechanic Arts High and Wentworth Institute and enlisted in the Army in WWII where he served in the Pacific Theater. He worked as a technician in the 94th Army Reserve Command in Boston and Hanscon AFB until his retirement in 1987. Bill was an active life member of the Veterans of Foreign Wars for over fifty five years.
Relatives and friends respectfully invited to attend a Mass of Christian Burial Saturday, February 4th at 10:00 AM in Saint Agatha Church, East Milton. Visiting hours at Dolan & Chapman Funeral Home, 5 Canton Avenue, MILTON VILLAGE Friday 4-8 PM.
Donations can be made in Bill's memory to Hancock Park Adult Daycare Program, 164 Parkingway, Quincy, MA 02169. Interment Milton Cemetery.