Enid H. Toney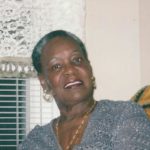 Enid Harieth Toney was born in the Republic of Trinidad and Tobago on October 3, 1937 to Jonas Toney and Josephine Dick Toney. She migrated to the United States of America in 1969. On Tuesday January 24, 2017, Enid made her transition from life to eternity.
During her early teenage years, Enid attended elementary and secondary school in Sangre Grande, Trinidad. She was very outgoing and loved to dance. She was baptized in the Anglican church in Trinidad and her faith in God continued throughout her adult life.
As a young woman growing up in Trinidad, she loved playing mas. During the late 60s early 70s she was crowned the Queen of the Bands for six consecutive years during Carnival competition.
After migrating to United States of America she worked as a necktie operator in the garment district in Manhattan, New York for many years. During this time she taught herself to become a seamstress and was very good at it.
Seeking a change in life she relocated to Massachusetts and was employed at Reebok International Limited in Stoughton, MA where she excelled as a sales clerk. She was also a small business owner of a clothing boutique in Brockton, MA where she excelled in making wedding gowns, tuxedos, prom dresses, and embroideries. Her main hobby was playing Bingo.
Enid touched many lives during her life on earth. She was an ordinary woman that did extraordinary things. She would go out of her way to assist everyone. Her heart was filled with love and kindness. She leaves to mourn her sisters Emelcia, Evelyn, Jocelyn, and brother Harold. She leaves to cherish her memories with her sons Ian, Chet, Stern, and daughter Beverly along with a host of grandchildren, great grandchildren, cousins, nieces, nephews, and other relatives and friends.
BLESSED AND HIGHLY FAVORED!