Thomas E. Joyce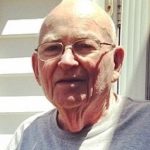 Thomas E. Joyce, of Milton, died peacefully on December 21, 2016, at home surrounded by his family.  He was born in Pittsburgh, PA on July 16, 1926, the son of Irish immigrants, Michael Angelo Joyce and Mary Laffey Joyce.
Thomas was married to Helen Joyce of Boston, in October, 1948, who preceded his death in 1997. She was the love of his life.  He was a graduate of the University of Pittsburgh and was employed at numerous jobs throughout his life including but not limited to Pittsburgh Pirate employee, merchant marines, US Postal Service, Boston Public school teacher, business owner, etc.  Thomas is survived by his children Rose Lawrence and her husband Edward of Natick, Stephen Joyce and his wife Bobbi of Los Alamos, New Mexico, Peter Joyce and his wife Alison of Milton and his four grandchildren Conner Joyce of Seoul, South Korea, Colleen Joyce of Milton, Kevin Joyce of Dorchester and Brianna Joyce of Brooklyn, NY. Michael Joyce was his eldest son who preceded his death in 2014.
Thomas leaves many close friends from Milton Bowling, Saint Agatha Church and his hometown of Pittsburgh.  Thomas literally travelled the world in the Merchant Marines and throughout his life which brought him much joy. He devoted the latter part of his life to his grandchildren and cherished the time he spent with them.  A special thank you from the family goes out to Beacon Hospice and the caretakers from Its Good To Be Home who allowed Tom the ability to be comfortable in his own home.
A Mass of Christian Burial will be celebrated in Saint Agatha Church, 432 Adams Street, Milton, Tuesday December 27 at 10:30 AM.  Relatives and friends invited.  Visitation at Dolan Funeral Home, 460 Granite Avenue, EAST MILTON SQUARE, Monday 4:00-8:00 PM.  Interment Milton Cemetery.
For those who wish, donations may be made to Doctors Without Borders at  Doctorswithoutborders.org