Russell S. Dowgos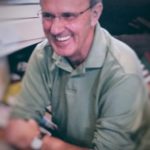 DOWGOS, Russell S., originally from Dorchester, MA, living in Hickory, NC passed away on December 21, 2016 at Catawba Valley Medical Center surrounded by love and God's light. Russell, 64, beloved husband of the late Doreen Y. (Chamberland) Dowgos joins her now, in heaven to continue their eternal love. He is survived by his loving son Jeffrey P. Dowgos and his wife Laura. As a father, Russell showed Jeffery the finest things in life: music, photography, humor, and the purest meaning of love and devotion.
Russell, a 10-year resident of Hickory, was a retired Postal Carrier in Wilkesboro, NC where he developed countless friendships. Prior to working for the USPS, he was a computer engineer for 30 years at companies including Arkwright Mutual Insurance and Children's Hospital. He was born in Mattapan, MA on January 21, 1952, a son of the late Olga (Klepeckas) Dowgos and Adam Dowgos of Mattapan. Russell lived in Dorchester for many years before moving to North Attleboro, MA and then to Hickory.
As a young man, Russell played the drums and bass in a King Crimson-style band. Also, he was an artist specializing in pen-and-ink, chalk drawings, and nature photography. He will be missed greatly, but lives on in our memories. Specifically, in the many wonderful adventures he and Jeffrey shared together.
Besides his son, he is survived by step-grandson John F. Geffert, IV and his wife Kelly (Bradford) of Plymouth, MA. Russell was the brother of the late, Algard Dowgos, William Dowgos, and Barbara Robinson.
Relatives and friends are kindly invited for visitation at Dolan's Funeral Home, 1140 Washington St, Dorchester, MA 02124, on Saturday, January 7th 9:30 to 11:00 AM, a memorial service will follow at 11:00 AM in the Dolan Funeral Home. Procession and interment in Cedar Grove Cemetery, Dorchester immediately following service.
Donations may be made in Russell's memory to the Catawba Medical Foundation Cancer Fund, 810 Fairgrove Church Road, Hickory, NC 28602 or to the SS United States Conservancy, PO Box 32115, Washington, DC 20007.