Edouard Jean-Baptiste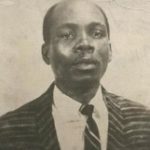 Edouard Jean-Baptiste passed away on Monday December 19, 2016, surrounded by his loving family.
Beloved husband of Mercia Jean-Baptiste. Cherished father of Jocelyn Jean-Baptiste, Emmanuel Pointjujour, Yolene Agenor, Ronel Pointjujour, Harold Jean-Baptiste, Herve Jean-Baptiste, the late Juliette, Edouard Jr., and Eddy Jean-Baptiste. Brother of Jeorgette, Antonia Jean-Baptiste, the late Gerard and Leon Jean-Baptiste.
Visiting hours at Dolan Funeral Home 1140 Washington Street, DORCHESTER LOWER MILLS, Thursday, December 29 from 4-8 PM. Funeral Service at Morningstar Baptist Church on Friday at 10:00 AM. Interment Forest Hills Cemetery.The repast will be at Stetson Hall, 6 South Main Sreet, Randolph. Relatives and friends invited.