Brian J. Griffiths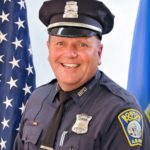 Brian J. Griffiths "BJG" (B.P.D., C-11), of Milton, passed away peacefully, surrounded by his family, Thursday December 8, 2016.
He was the son of the late Marguerite (Mullen) Griffiths-Coyne, William Griffiths and Leo Coyne.  Beloved husband of Deanna (Silva) Griffiths.  Devoted father of Adam and his wife Jill Griffiths of Milton, Kimberly Griffiths of Weymouth, Kerrigan and Colin Griffiths of Milton and step-father of Mackenzie Joyce of Milton. Loving "Pop" of AJ Griffiths of Milton.  Brother of the late Sherman Griffiths (B.P.D., Det., D.C.U., E.O.W. February 18, 1988) and his wife Deirdre of Needham, William Griffiths (B.P.D., Ret.) and his wife Tracey of Easton, Thomas Griffiths (B.P.D., B-3) and his wife Lauren of Yarmouth, Kevin Coyne (B.P.D., K-9) and his wife Christina of Hanover, Dennis Coyne and his wife Judith of Milton, James Coyne (B.P.D., Det., B-2.) and his wife Annamarie  of Milton. Former husband of Linda Griffiths of Milton.  Also survived by 17 nieces and nephews and his dear friend and former partner, Christopher Colby (B.P.D., Spec. Ops.).
Brian was a proud member of the Screen Actors Guild and is best known for his Academy Award worthy role in Good Will Hunting.
A Mass of Christian Burial will be celebrated in St. Agatha Church, Milton, Monday, December 12 at 10:00 AM. Visiting hours at Dolan & Chapman Funeral Home, 5 Canton Avenue, MILTON VILLAGE, Sunday, December 11 from 2-6 p.m.
In lieu of flowers, donations may be made in Brian's memory to either the Boston Police Relief Association or Cape Abilities, Inc.