Richard Walsh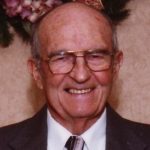 Richard "Dick" Walsh of Norwood, formerly of Dorchester, Nov 1,.
Dick was born into an Irish immigrant family in New York City in 1926.  His family returned to Ireland, and Dick grew up in Clonakilty, Ireland.  He returned to the Boston area as a twenty year old, eventually helping his four siblings and his mother return to the United States.
Dick worked as a milk deliveryman for nearly 40 years, for White Brothers, Whiting's Milk Company and West Lynn Creamery.  He was always known for his hard work and dedication to his customers and his employers.  Dick later worked for the Archdiocese of Boston for 10 years before retirement.
Dick possessed a great love of Irish culture and was known for his many years running Saint Patrick's Day functions at Saint Gregory Parish in Dorchester that always included Irish music, singing, and step dancing.  He enjoyed playing the Irish accordion, and singing with his wonderful Irish Tenor voice in the church choir, at social events, and at many of his children's weddings.
Dick was dedicated to his church and community, and served as President of the Holy Name Society, member of the Knights of Columbus, servant for the Saint Vincent DePaul Society, and member of the Saint Gregory's Choir.  He was a regular communicant at Saint Gregory Parish in Dorchester and Saint Catherine of Siena Parish in Norwood, and served as a Eucharistic Minister for many years.
Most of all, Dick was a dedicated family man, a beloved husband to Margaret (Peg) Walsh (Donovan), the love of his life, and a cherished father to his six children and loving "Papa" to his 17 grandchildren.  Dick was a steady and reliable provider, who worked tirelessly for his family and ensured that his children all completed their education.  Dick will be remembered with great love and respect, as a good man, a fine example, a hard worker, and a kind soul, who always did his best "for the good of the order", as he often liked to say.
He was a beloved husband of 60 years and best friend of Margaret (Donovan) Walsh.  Devoted father to Maureen Walsh David and her husband Steven of MD, Richard Walsh and his wife MaryJo of FL, James Walsh and his wife Diane of Franklin, Kathleen Walsh Heraghty and her husband Michael of  Norwood, Edward Walsh and his wife Kelly of Scituate, and Margaret Walsh and her husband John Newman of NH. Brother of Helen McCarthy of Dorchester, Mary Driscoll of Milton, Edward Walsh of Abington, and the late Michael Walsh.  Brother in Law of Alice (Donovan) Walsh of Arlington.  Also survived by 17 grandchildren: Sarah, Julia, Katie, Richard, Michael, John, James, Meaghan, Julia, Erin, Eamon, Mairead, Rosemarie, Aidan, Molly, Maeve, and Cormac.  A Mass of Christian Burial will be celebrated at St. Gregory's Church, DORCHESTER, Sat. Nov. 5 at 11 clock. Visiting Hours in the Dolan Funeral Home, 1140 Washington St., DORCHESTER LOWER MILLS, Fri. 4-8pm. Interment St Joseph Cemetery, W. Roxbury.  In lieu of flowers donations in Richard's name may be sent to either Boston Catholic Television, P.O. Box 9196, 34 Chestnut St., Watertown, MA 02471 or to St Gregory Parish, 2223 Dorchester Ave., Dorchester, MA 02124.   Late Army Vet. Korean War.