Pauletta V. Baldwin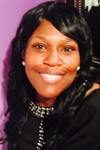 Pauletta Baldwin Cofield was born December 10th, 1970 in Boston, Massachusetts to Arlene Baldwin and the late Willie Johnson, Jr. After a longtime battle and courageous fight our dearly beloved departed us at 11:54pm on Oct, 31st 2016.
Pauletta was an outgoing, kindhearted and independent woman that was loved dearly. She attended South Boston High and later discovered a passion for cosmetology and hair-styling, which led to her enrollment in Blaine's Beauty School. Later on Pauletta developed an interest in social justice and community advocacy and attended Mount Ida College; this resulted in a career in the Criminal Justice field where she worked as an employee in a pre-release program for men. She loved traveling, reading, trips to the casino as a family outing and most of all spending time with her loved ones.
Life has a way of rekindling relationships and in the winter of 2014 she married a longtime friend Edward Cofield.
Together they traveled to different cities and countries; where they shared and created a lifetime of memories. Their love for each other was filled with joy and happiness.
Mrs. Baldwin Cofield leaves to mourn and cherish in her memory, husband Edward Cofield, mother Arlene Baldwin, stepfather Ernest Thomas, two daughters Brittany & Arlene Baldwin, sister MaryAlice Baldwin, two brothers Willie Johnson III, Ledell Wilkerson Jr. and two grandchildren Janiyah and Jayden Baldwin that she loved dearly.
She also leaves behind her biological aunts and uncles, Sallie Mansfield, Ethel Gibson, Gladys White, Elanor Johnson and Jimmy-Lee Baldwin. She also leaves a host of cousins and godchildren; friends turned family Patrice Ivery, Pat Taylor, Janine McCullom & Darnell Booker.
Pauletta also leaves to mourn in her memory a host of family and friends who will cherish the moments they have shared forever. Visitation will be held Thursday, November 10 at the Dolan Funeral Home, 1140 Washington St., LOWER MILLS from 6-7PM. The Funeral service will begin promptly at 7PM. Relatives and friends invited.