Jack (Hagop) Arabian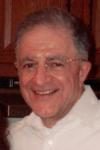 Jack (Hagop) Arabian, of Milton, November 1, 2016.
He was born in Lawrence, MA, November 13, 1929. Jack was raised in Andover and graduated from Andover (Punchard) High School in 1947. He received a B.A. from Harvard University in 1951 and an M.S. from Massachusetts Institute of Technology in 1970. His working career spanned radar electronics, inertial guidance, industrial control systems, computer design and test, and management consulting. He was a Massachusetts registered professional engineer and he held membership in the Institute of Electrical and Electronics Engineers (IEEE), Instrument Society of America (ISA), American Institute of Aeronautics and Astronautics (AIAA) and British Society of Test Engineers. In 1993 he founded Comparative Management Associates, specializing in the Process Technologies of Benchmarking, Computer Modeling, and Simulation. The Associates modeled processes in healthcare, manufacturing, and financial industries.
Mr. Arabian traveled internationally as an engineering consultant, writing papers and lecturing to professional groups and students on electronics, automatic testing, and competitive strategies. He is the author of three technical books, "Computer Integrated Electronics Manufacturing and Testing", "Speed Benchmarking" and "Concurrent and Comparative Discreet Event Simulation". He was a contributing author to the book entitled "VLSI Testing". He wrote several contemporary novels and he is listed in Marquee's "Who's Who in the East".
Survived by his wife Elyse Arabian; two brothers, Gregory and Ralph; three children, Sherri Moody from Milton and her husband Frank, Alan Arabian of Quincy and his wife Sandy, and Marie (Maffei) Hennessey and her husband Frank of Yarmouth; three grandsons, Eric and his wife Anna, Alex and Stephen; and several other grandchildren, great-grandchildren and cousins.
Visiting hours at Dolan Funeral Home, 460 Granite Avenue, EAST MILTON SQUARE, Friday November 4 from 9:00 to 11:00 AM to followed by a funeral service at 11:00 AM. Relatives and friends invited. Interment Milton Cemetery.