Alice M. Conlan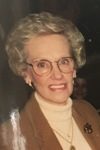 Conlan (Keating), Alice Marie of Braintree formerly of Dorchester and Milton. Beloved wife of the late Paul V. Conlan. Loving mother of Gregory "Greg" Conlan (BFD) of Leicester and Elizabeth "Beth" Collins of Braintree. Sister of the late Elizabeth Anne and Thomas Keating. Cherished grandmother of Gabrielle, Michaela, Paul and Jack Collins and Kara Marie Conlan. Sister in law of Mary Keeley of Dorchester and Joan Jaehning of Quincy.
Alice was the owner of Friends Catering in Dorchester working along side of her husband Paul at the Knights of Columbus for many years. She also worked in the Cafeteria at Milton High School. Her brother, Charlie, ran Mullen's Mobil in East Milton Square. She was a familiar face in Dorchester, at Christmas she and her husband would open their home to everyone in the neighborhood for hot cocoa and a ride on the Christmas train that they created for all to enjoy year after year. Alice loved her family who were the most important aspect of her life. She will be dearly missed.
Relatives and friends respectfully invited to attend a funeral mass on Monday November 28, 2016 in Saint Gregory Church at 10AM. Visiting hours will be held on Sunday November 27, 2016 from 1-4PM in the Dolan Funeral Home, 1140 Washington Street, Dorchester. Interment in Cedar Grove Cemetery, Dorchester.