Virginia Curcio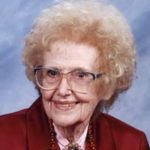 Virginia  (Nash) Curcio of Milton, Oct 18.
Virginia's love of life was music and entertainment. As a 4 year old, she was able to play the piano by ear. Early in her career she traveled with bands across New England and the Mid-West. She never stopped being an entertainer; she was still singing and telling jokes until just before she died at the age of 97.Virginia lived most of her life in Milton and was a longtime member of the Parkway Methodist Church.
For the last five years she lived at the Marina Bay Nursing Center in Quincy, where she called herself the Unofficial Greeter and Social Director for   people moving into the facility. She was known for her colorful personality, her jokes and singing and of course, jewelry and scarves!  She loved where she lived and as she was failing in the hospital, her wish was "to come home to her people" at Marina Bay. She died surrounded by people she loved and who loved her.
Virginia was beloved sister of the late Ruth Nelson. Devoted Aunt of John Nelson of CA, Linda McVay of Chatham, Jane Nelson of Squantum and Robert Nelson of Norwell. She leaves 8 great nieces and nephews, 6 great-great nieces and nephews, and by the many staff at Marina Bay who loved her as she loved them.
Funeral Service in the Dolan & Chapman Funeral Home, 5 Canton Ave., MILTON VILLAGE, Sun. Oct. 23, at 2 o'clock. Visitation  1-2 pm prior to the service. Interment Private. In lieu of flowers donations in Virginia's name may be sent to the Milton Residents Fund, 535 Canton Ave., Milton, MA 02186.