Rosalie V. Branton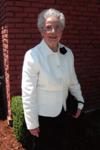 Rosalie V. (Cucchiara) Branton, of Quincy, passed away peacefully from heart failure, surrounded by her family who adored her on October 27, 2016.  She was 93 years old.
Beloved wife of the late Charles T. Branton formerly of Quincy and Philadelphia, she was a devoted and loving mother of Carol Branton of Quincy, Virginia Lizotte and her husband Ed of Braintree, Margaret Watson and her husband Paul Gearin of Scituate, Joan Sweeney and her husband Peter of Scituate, William Branton and his wife Ann of Scituate.  Rosalie was an adored Nonnie to her grandchildren Acadia Jewett and her husband Dave, Thomas Watson, his wife Caroline, and their son Wyatt, William Branton, Rosalie Branton, and Oliva Branton.  She is survived by many loving nieces, nephews and friends.
Roslaie was born in Dorchester to Peter and Vincenza (Sferruzza) Cucchiara.  She was the loving sister to the late Anthony Cucchiara and his wife Helen, Vita Ziniti and her husband Charles, Frank Cucchiara and his wife Elena.
In addition to raising five children and running a loving household, Rosalie worked at RH Stearns and was the manager of the executive dining room at the Old New England Merchant's National bank in Boston.  She was a Brownie and Girl Scout leader at St. Anne's Neponset and a Eucharistic Minister for many years at St. Mary's in Quincy.
Rosalie was an outgoing and generous person with a sparkling personality.  She was a member of Quincy's Ward 4 social club and a member of the Guild for the Quincy Symphony Orchestra.  A wonderful cook, hostess, and seamstress, Rosalie made beautiful clothing for all her children (including outfits for her girl's dolls).  She was energetic, resourceful, and a wonderful role model to her family especially in her ability to love and care for those close to her.  She was admired and respected for the remarkable way she cared for those close to her.  She was admired and respected for the remarkable way she cared for her husband Charlie during the difficult years he suffered with Parkinson's Disease.
Rosalie enjoyed many family trips to NYC to attend performances at the Metropolitan Opera.  She enjoyed singing old songs with friends and family.  She and Charlie raised a happy, loyal, and loving family which is their greatest legacy.  She will be treasured and missed forever.
There will be a viewing Sunday evening from 4 to 7 o'clock at 460 Granite Avenue in Milton, with the funeral service Monday morning at 10 o'clock at Saint Mary's Church in West Quincy.