Naomi A. Cattel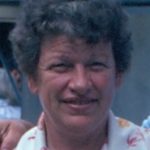 Naomi A. (MacDonald) Cattel of Marion, MA and formerly of Milton, MA passed away September 8, 2016 at the age of 83 surrounded by her loving family. Born in Braintree on August 19, 1933, she was the daughter of the late George and Anna (Belmore) MacDonald.
Naomi was the devoted wife for 57 years to the late James J. Cattel, Sr. She was also the beloved mother of Robert F. Cattel and his wife Pam of Marion and James J. Cattel, Jr. and his wife Elaine of Westford. Naomi was also the loving grandmother of Jeffrey Cattel of New York City, NY, Jonathan Cattel of North Easton, MA, Dennis Cattel of Raleigh, NC, and Gregory Cattel of New York City, NY.
She leaves behind her sister in law, Janet MacDonald, her cousin Nancy Tinkham, her nephew George Tinkham, as well as her caregiver and best friend Evelyn Barboza. Naomi was predeceased by her sisters Marion, Joanne, Patricia, Carol, and Alice as well as her brother George.
Naomi loved the peacefulness of the cottage and later home that she lovingly shared with her husband and children in Marion. She enjoyed games of croquet on the front lawn with family and friends as well as sailing with her husband and sons on Buzzard's Bay in their sailboat Rojana II.
She was a true sports fan and loved discussing players, teams, and games with her grandchildren. Her favorite sports team was the Patriots that she had devotedly followed since the days of Coach Mike Holovak and quarterback Vito "Babe" Parilli. For many years, Naomi bowled on a weekly basis in leagues with her best friends Doris Campbell and Agatha Mackay. She loved to go to the plays that her son Bob and grandchildren Jeffery and Jonathan performed in.
A Mass of Christian Burial will be celebrated in St. Elizabeth Church, Milton Wednesday, September 14, at 10 o'clock. Visiting Hours in the Dolan & Chapman Funeral Home, 5 Canton Ave., MILTON VILLAGE, Tues. 4-8 pm. Interment Milton Cemetery.
In lieu of flowers, donations in Naomi's memory may be sent to a charity of your choice.