Jon Esteve Michel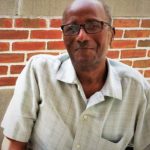 On the evening of August 23, 2016 cherished father, grandfather, uncle, and dear friend Jon Esteve Michel passed away at Boston Medical Cent at the age of 79. He was preceded in death by his parents, Elfils Michel and Madeleine Michel, brother Marc Michel and aunt Vertulia Michel.
Esteve was born in the town of Grand Groave, Haiti on November 11, 1937. As a young man he joined the Boy Scouts and strove, throughout his life, to uphold the three promises: duty to God and country, duty to help others, and duty to self. In his early twenties he became a member of the Haitian Baptist Church. It was through his association with the Baptist Church both in Haiti and in Boston, that he found the most significant vehicle through which to express his faith and relationship with God. Jon Esteve immigrated to the United States in 1968; first to New York and then to Massachusetts. After graduating from Northeastern University with a degree in accounting he resumed his career in banking, which he began in Haiti. He left banking in 1982, after a senior post as Auditor with New England Merchant Bank, to open his own practice. That same year he also became a naturalized American citizen Jon Esteve started a small accounting firm in Mattapan where he established himself as a businessman, philanthropist and community leader serving particularly the Haitian community. For over 35 years Michel and Associates helped businesses and individuals with taxes and also with immigration and other adjustment issues. His office often bustled with activity and classical music.
Jon Esteve is survived by his daughters, Gisele Marlie Michel, Carrine Michel and her son Zachary Martin Giordano, Shirley Michel; his stepson-Clifford Ducheine and his children Khalil, Raheem and Clifford, Jr; his former wife Michelle Michel, who remained at his side until his last day. There are also dear nephews and nieces: Markenlise Michel, Macgleen Michel, Sauvena Witty; Benjamin Boursiquot and his siblings George, Bernadette, Michelin, and Alexandre Francois.
Additionally, Jon Esteve is survived by dear lifelong friends with whom he was able to keep ties despite the many miles that separated them.
Services will be held at Dolan Funeral Home, 1140 Washington Street, Lower Mills, Dorchester. Viewing will be Friday, September 2 from 4-8pm and Saturday, September 3 from 8:30am 11am. All funeral services will be at Dolan Funeral Home. Burial will be at Cedar Grove Cemetery, 920 Adams Street, Dorchester immediately following the service.