Muriel Pasquantonio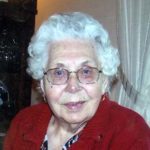 Alfhild Muriel (Johanson) Pasquantonio, of Milton, MA. August 25th.
Proud daughter of the late Albert and Agnes Johanson and beloved wife of the late Anthony Pasquantonio, Muriel passed away at the age of 98 after a long and fulfilling life and the loving sister of the late Elsie Sweatt.
Forever proud of her Scandinavian heritage, Muriel was born on September 23, 1917 in Roslindale, MA to Norwegian and Swedish immigrant parents. She attended high school at the Boston Trade School for Girls where she learned to become an exceptional seamstress and cook, skills she would use throughout her life to the great benefit of family and friends, and later going to work at a stationary factory. While living in Randolph as a teenager, she would meet her neighbor and soon to be life-long love, Anthony, whom she married in 1939 and remained so until Anthony's death in 2003.
Once married, she moved to Milton in 1943, where she would raise three children and remain a resident for the rest of her life. Muriel was also, for many years, a housekeeper and dear friend to a local doctor's family.
The loving mother of Donald Pasquantonio and his wife Ellen of Fort Meyers, FL, and Manomet, Gail Assaf and her husband Joseph of Delray Beach, FL, and Maine and formerly of Stoughton, Alice Duzan and her late husband Thomas of Milton, MA, she leaves an indelible legacy as the matriarch of a large family. Muriel is also survived by her seven grandchildren, Gregg, Susan, Brian, Jon, Erik, James, and Richard, as well as her 19 great-grandchildren and one great-great grandchild and  by her late sister Elsie's children who embraced her as their own after their mother's death, Blaine Sweatt, Beverly Snyder, Elsa Tuggle, and Karla Stevens, all of Florida, and many other nieces and nephews.
Funeral Service Monday, August 29, in St. Michael's Episcopal Church, 112 Randolph Ave., MILTON at 11o'clock. Visiting Hours in the Dolan & Chapman Funeral Home, 5 Canton Ave., MILTON VILLAGE, Sun. 3-6pm. Interment Milton Cemetery. If desired contributions in Muriel's name may be sent to either Dana-Farber Cancer Institute, P.O. Box 849168, Boston, MA 02284-9168, or to the  charity of ones choice.