Marilyn L. Walsh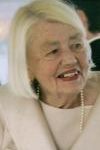 Marilyn L. (Landers) Walsh passed away peacefully on August 11, 2016.  Born  on February 4, 1931, she was raised in Boston and the daughter of the late Raymond and Mary Landers.  She was the beloved wife of the late James H. Walsh, M.D. of Milton, MA.
She is survived by her six children: James H. Walsh, III of Weymouth, MA; Mary Ann Walsh of Tampa, FL, Raymond L. Walsh of Milton, MA; Marilyn L. Walsh-Doyle of Randolph, MA;  Elizabeth J. Walsh of Charlestown, MA  and Jennifer A. McArdle  and her husband Chuck of Dorchester, MA.  Sister of Raymond Landers of Wakefield.   Marilyn is also survived by three loving grandchildren.
Marilyn was a nurse for over 50 years and brought her humor and compassion to all she touched.
Relatives and friends are invited to attend a mass of Christian Burial at St. Elizabeth's Church, Milton, MA, Tuesday August 16, 2016 at 10:00 A.M.  Visiting hours on Monday, August 15, 2016 at the Dolan & Chapman Funeral Home, 5 Canton Avenue, MILTON VILLAGE from 5:30 P.M. – 7:30 P.M.   Burial in Milton Cemetery, Milton.