Joseph Christopher Higgins Jr.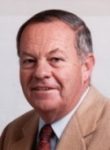 Joseph Christopher Higgins, Jr., a leader in the Boston construction business for more than 40 years and beloved husband, father and grandfather, at the age of 82, August 1, 2016.
Joe graduated from Saint Sebastian's Country Day School in 1952, and from Boston College in 1956. In 1959, he joined JC Higgins Company, following two years of military service in the United States Army.  He became President of the company in 1968 and continued on as President and CEO until 1999, when he became Chairman of the Board. He also served on the boards of the Hancock Bank and Liberty Mutual Insurance Company.
While his professional achievements are significant, he is more remembered by all who knew and loved him by his larger than life personality which transcended into every aspect of his life. He married the love of his life, Catharine Reagan Higgins, in 1962 and had seven children and 23 grandchildren. Joe was a prolific and colorful storyteller, and kept his audiences rapt with stories from Somerville and Newton, replete with recurring characters including Stinky Finnegan, Louie Veduzio, and Mary Margaret Magoon. An avid golfer, he was President of the Wollaston Golf Club in Milton, where he joined in 1960 and played for many seasons. In recent years he was often found motoring across Buzzard's Bay on an ever-rotating fleet of boats with a crew of friends and relatives seeking "blues and stripers."  When he wasn't fishing, Joe could also be found lunching at Bobby' Restaurant in Vero Beach (Seat 5E), disseminating his unique opinions to the public via various Letters to the Editor, and reminding his children and grandchildren that, when it came to politics, "One day, you'll see, I was right." As a father he was loving but stern, and as a grandfather he was a complete pushover. Whether they knew him as Papa or Dunkum, few left his house without a nickname and none without a smile
Beloved husband of Catharine (Reagan) Higgins of Marion, MA and Vero Beach. Father of Joseph C. Higgins III and his wife Kim, Molly C. Mahn, Catharine M. Higgins, Robert R. Higgins and his wife Michelle, Michael P. Higgins and his wife Maria, Timothy J. Higgins and his wife Kristen and Philip C. and his husband Matthew Smith. Joe is also survived by 23 grandchildren. Brother of Eleanor Rodgers, Alice Slattery, Evelyn Beveridge, James F. Higgins, John Higgins and the late Mary Nash.
His Funeral will be held on Friday August 5th at 10:45 AM from the Saunders-Dwyer Mattapoisett Home for Funerals, 50 County Road (Rt. 6), Mattapoisett, followed by his Funeral Mass at Saint Anthony's Church, 22 Barstow Street, Mattapoisett at 12 Noon. Visiting hours will be held on Thursday August 4th from 3-7 PM.
In lieu of flowers, donations in Joe's memory may be made to St. Jude Children's Research Hospital, P.O. Box 50, Memphis, TN 38101-9929.
For online condolence, please visit www.saundersdwyer.com