Isolina P. Dimagiba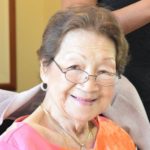 Isolina (Pangilinan) Dimagiba,  age 89, passed away peacefully in Boston, August 12, 2016. Isolina was born on May 5, 1927 in Manila, Philippines, the daughter of Emilio Pangilinan and Margarita Cruz.
Isolina was a graduate of National Teachers College and The Philippine Women's University in Manila. She was a college professor, teaching English and History, at Manuel L. Quezon University in Manila, and the University of Massachusetts in Boston. In addition to her lifelong love of teaching, she loved her family, friends, church, and the Patriots.
Beloved wife of the late Leonardo Dimagiba. Beloved mother of Emily Dimagiba, Enrique and his wife Carolina Dimagiba, Diosdado and his wife Cynthia Dimagiba, Angela and her husband David Dennis, Ray Dimagiba & Maria Colon, all of Boston, Celia and her husband Claro Balana of Manila, Nina Dimagiba & Richard Flaherty of West Palm Beach and the late Raquel and Antonio. Grandmother of Eric, Niña Lyn, Niña Fe, Erwin, Gia, D.L., Ariana, Allena, J.M., and Josh, all of Boston, Carmela, Carlo, Chris, and Jan, all of Manila. Sister of Violeta, Lilia, Lydia, Cristino, and the late Viador, Carolina, Arnulfo, and Teresita. Also survived by 11 great-grandchildren and numerous nephews and nieces.
A Mass of Christian Burial will be celebrated in Saint Gregory's Parish, Thursday August 18 at 10:00 AM. Visiting hours in the Dolan & Chapman Funeral Home, 5 Canton Ave, MILTON VILLAGE, Wednesday August 17, 4-8 pm. Interment Cedar Grove Cemetery. In lieu of flowers, contributions in Isolina's memory may be sent to St. Gregory's Parish, 2223 Dorchester Ave, Dorchester, MA 02124.