Myrielle (Etienne) Brisson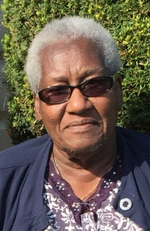 Myrielle (Etienne) Brisson, 90, of St Michel, Haiti passed away peacefully on July 12, 2016.
She was the beloved wife of the late Georges Brisson. Loving mother of Georges Eric Brisson and wife Michelle, Hedwidge B. Grasso and husband Michael, Karel Brisson and wife Josee, Myrielle B. Whittle and husband Edgar, Leny Brisson and wife Judith, Magda B. Tabor and husband Randy. She also leaves behind her sisters Maud Bertoni and Mireille Aarons, many loving grandchildren and great-grandchildren, nephew and nieces.
Visiting hours Friday July 15, at Dolan Funeral Home, 1140 Washington Street DORCHESTER LOWER MILLS from 4-8 PM. A Mass of Christian Burial will be celebrated in St Gregory Church 2223 Dorchester Ave., Dorchester, Saturday July 16 at 10:00 AM. Interment Cedar Grove Cemetery, Dorchester.