Mary Louisa Osborne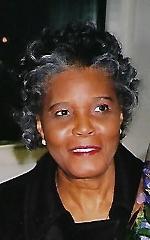 Mary Louisa (Harris) Osborne of Dorchester was born to Charles Piper and Henrietta Skerritt on September 14th, 1937 and was raised   on   the   island of Montserrat in the West Indies.  She departed this life on July 12, 2016 surrounded by her loving family after a long battle with Alzheimer's Disease.
When Mary was eighteen, she moved to England where she worked in a factory.  A few years later she married her husband John whom she had known since they were children in Montserrat. They lived happily in England for several years before migrating to the United States in 1966.  Mary was a hardworking woman and worked at Children's Hospital for 38 years as a dietary aide before she retired in 2003. She loved interacting with the children and their families and was known for her tireless efforts to ensure that every child received respectful care and attention.  She was an avid seamstress and a proud graduate of the School of Fashion Design on Newbury Street in Boston.  She designed and crafted clothing for her children, husband, friends and relatives.  Mary's other favorite past times were bargain shopping and gardening.  Many of the flowers she planted years ago still bloom every year and grow beautifully in her garden.  Mary loved her family and spending time with them was one of the most important aspects of her life.  Known for imparting tips to friends and family about the importance of saving money and not holding her tongue, her presence will be missed by all who knew and loved her.
Mary leaves to treasure her loving memory, her devoted husband John, her children Leroy,  (Stephanie), Leslie, (Angela), Brenda, Bernice, (Steven), her siblings Geraldine, Janet, Jule, Rose, May, Will, Ivan and the late James of Boston, late James of England and Kathleen. She also leaves grandchildren Leslie Jr, Elijah, Leroy Jr (Todd), Shalonge, Ashlei, Michael, Wesley, Taavis, Kristina and the late Quinten, 20 great-grandchildren, many cousins, nieces, nephews, friends and cherished pets her to carry on her legacy.
A special thank you to all the family and friends who have given so much support and encouragement throughout the years.
In lieu of flowers, donations can be made to the Alzheimer's Association, Massachusetts/New Hampshire Chapter, 480 Pleasant St., Watertown, MA 02472 or alz.org/manh.
Relatives and friends respectfully invited to attend the funeral service in All Saints Church, 209 Ashmont Street Dorchester on Saturday July 23, 2016 at 10:15AM. Visiting hours in the Dolan Funeral Home, 1140 Washington Street, Dorchester Friday July 22, 2016 4:00-8:00PM. Burial in Cedar Grove Cemetery, Dorchester