Denise Bonaparte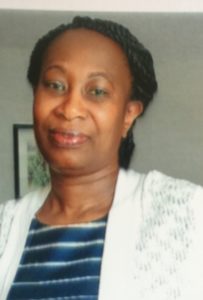 Denise Bonaparte was born to Lanie Bonaparte and Augustine Newton on December 3, 1964 in the parish of St. David's, Grenada.
After starting her education at the St. Peter's RC School, Denise moved to Trinidad where she grew up with her mother's family. Years later she returned to Grenada where she was reunited with her siblings and slowly familiarized herself with the new additions to the family and neighborhood.  As a young adult, she worked in sales in Grenada and shortly after joined her siblings who had moved to the United States. She began a career in child care and continued there until her passing. She raised the children she took care of as her own.
Denise was a quiet person and was always smiling. She loved traveling, skiing, going to the beach, and nature in general. After being in Boston for a couple of years, Denise began going to Berea Seventh Day Adventist Church where she made friends with members and those from her native country of Grenada. While going to Berea Church she expressed a desire to be baptized and in 1996 she accepted the Lord as her savior. Denise was willing to serve the Lord in any area of the church. She became a Deaconess and an usher, and also a member of Personal Ministry, Women Ministry, and the Gourmet committee. Denise was very well rounded and her beautiful smile always brightened up members and visitors on Sabbath as she greeted them at the entrance of the church. She was really a door keeper in the house of the Lord. Denise was well loved by her brothers and sisters from the churches in the area.
Denise was surrounded by a strong group of friends who helped her to develop as a strong child of God. Annette Brown and Anne Jones were her shoulder to lean on. Eric, one of her brothers in Christ, called them "the Three Hebrew Girls".
Denise leaves to mourn her loss her mother, Lanie Bonaparte and father, Augustine Newton; Siblings: Eugene (Tony) with whom she had a very special bond as they were both shy and loved to smile, Matthew, John, Ryan, Marsha, Pauline, Ava, Ria, Yvonne, Hazel, Ann, and Anne Newton, one of her sister-in-law, who was like a sister to her for over 10 years and played a major part in her life, they were inseparable (residing in the United States); Desiann, Lydia, Dennis, Dexter, Debra, Wilma, Chad, Houston, and Glenn (residing in Grenada). She also leaves many nieces and nephews, cousins, friends, and 3 special children that she referred to as her own: Dany, Ethan, Lily. Visitation will be held at Berea SDA Church on Seaver st., Sunday, July 17 from 11AM-1PM. The Funeral Service will begin immediately after at 1PM. Relatives and friends invited.