Joseph A. Melchin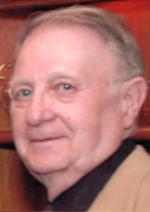 Joseph A. "Joe" Melchin, of Duxbury, formerly of Milton, Quincy and Dorchester died peacefully June 3, 2016. Husband of the late Clara M. (Gormley) Melchin and very dear friend of Patricia Lituri of West Roxbury. Loving father of Leslie Anne Lee and her husband Stuart of Duxbury, Kenneth Melchin of Milton and Brian Melchin of Hudson. Brother of the late Robert A. and Charles R. Melchin. Cherished grandfather of Cameron Marshall Melchin of FL, formerly of Merrimack, NH. Joseph is also lovingly survived by many  nieces, nephews and friends.
Joseph began his career at Broyhill Furniture and was there for over 40 years. He continued working until the age of 82. He enjoyed dancing and international travel as well as his meetings with his dear friends he grew up with in his beloved Dorchester, of which he proudly displayed his OFD (Originally From Dorchester) sticker on his car for many years. He was very active in the Prader‐Willi Syndrome Foundation and Charles River Industries supporting the cause of which his son's Brian's life was affected. He was a former member of the Milton-Hoosic Club and Knights of Columbus, Council 180, Dorchester Lower Mills. Joseph was proud of his service to his country during WWII in the United States Navy and proudly wore his Navy cap everywhere he went. Most of all, Joe loved spending time with his family and looked forward to his regular outings to the Dollar Store with Brian. Joe's children and Pat's family as well as his extended family and friends were the center and important part of his life. He truly loved people and embraced life to the fullest and loved making people smile and laugh! He will be missed by all that had the pleasure to have known and loved him.

A Mass of Christian Burial will be celebrated in Saint Mary of the Hills Church, Milton, Saturday June 11, 2016 at 11AM. Relatives and friends respectfully invited to attend the visitation Friday June 10, 4‐8PM in the Dolan Funeral Home, 460 Granite Avenue, EAST MILTON SQUARE. Interment Milton Cemetery, Milton.
Donations in memory of Joseph may be made to the Foundation for Prader‐Willie Research, Dept. LA 23216, Pasadena, CA.
Flowers can be provided by Lopez the Florist, Dorchester 742 Adams Street Dorchester, MA 617-265-8801, Lopeztheflorist.com. Ask For Donnie Lopez.