Joan Ellen McCarthy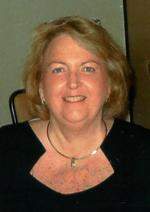 Joan Ellen (Joanie) McCarthy , 57, a life-long resident of Milton, passed away peacefully on June 15, 2016 surrounded by her loving family and friends.
Joanie was the youngest daughter of the late Joseph and Doris (Lawton) McCarthy.  She is survived by her brothers Joseph (Joe) and his wife Nancy of Milton, Robert and his wife Donna of Florida, and her sister Janet Winot and her husband Keith of North Carolina.   She is also survived by many adored nieces and nephews: Joseph (Joey) McCarthy and his wife Betsy, Sean McCarthy, Dan McCarthy and his wife Kelsey, Stephanie Manna and her husband Warren, Robert (Bobby) McCarthy and his wife Amanda, Christopher McCarthy and his wife Allison, Timothy Primrose and his wife Adrienne, and Julie Primrose and her fiancée Chris Page.  Joanie was the doting grandaunt to Sabrina, Isla, Joseph, Maeve, Thaddeus, Bobby, Alexandra and Matthew.  She will be greatly missed by her Uncle Bob Lawton, Aunt Joan Connolly and her many close cousins and friends.
Joanie was a graduate of St Elizabeth's Hospital School of Nursing – Class of 1979, UMass/Boston and Northeastern University.  She was a proud and dedicated registered nurse who loved her profession with a passion.  She was a longtime employee of South Shore Hospital and Lahey Clinic.  Joanie was a former Board member of the Massachusetts Organization of Nurse Executives and a former member of the Patient Family Advisory Council at Beth Israel Deaconess-Milton. As an avid traveler Joanie enjoyed more than 25 cruises and trips that took her all over the world.
A Mass of Christian Burial will be celebrated in Saint Elizabeth's Church, Reedsdale Road at Randolph Avenue, Milton, Wednesday, June 22,at 10:30 AM. Relatives and friends are invited to attend the visitation Tuesday June 21,  4-8 PM at Dolan Funeral Home, 460 Granite Avenue, EAST MILTON SQUARE.  Interment Milton Cemetery.
In lieu of flowers, donations in Joanie's name may be made to the New England Donor Organ Bank, 60 First Street, Waltham, MA 02451.