Dorothy Eleanor O'Brien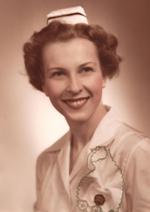 Dorothy Eleanor O'Brien, 90, a long time resident of Milton, passed away June 27,2016 at the Hellenic Nursing and Rehab Center in Canton. Born August 24, 1925, in Boston to Beatrice and Michael Gricius. Dorothy served as a Cadet Nurse during WWII and later worked as an RN at Boston City Hospital.
Dorothy was the loving wife of the late Paul I. O'Brien MD. She is survived by her four children Dennis J. O'Brien and wife Antonia M. Chambers of Vienna, VA, Rosanne T. O'Brien of Milton, David R. O'Brien of Boston and Dianne M. Davidson and husband Mark of Holliston. Also survived by two grandchildren Bonnie and Tim Davidson and sister Beth Acebo.
A Mass of Christian Burial will be celebrated Friday at 10 AM at St. Peters Lithuanian Church, 75 Flaherty Way, South Boston. Relatives and friends invited. Visiting Hours from the Dolan Funeral Home 460 Granite Ave., MILTON , Thursday 4 – 8 PM. In lieu of flowers donations in Dorothy's memory may be made to the Hellenic Nursing and Rehab Center, 601 Sherman St., Canton, MA 02021.