Sgt. Det. Richard Francis Clancy, BPD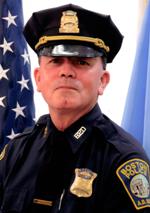 Richard Francis Clancy (Sgt. Det., BPD), a 37 year member of the Boston Police Department, died at his home in of Norwood, Sunday May 1, 2016.
Born in Boston and raised in Dorchester, he entered the US Air Force shortly after graduation from high school. He had lived in Quincy and Norwell prior to moving to Norwood.
Beloved husband of Susan M. Clancy (Det. BPD). Father of Myles Richard Clancy, Mary Rose Clancy and Alannah Mary Evans. Son of the late Francis E. and Pauline E. (Bulger) Clancy. Brother of Lorraine Traft, Robert Clancy and his wife Nancy, Pauline E. Clancy and her husband David Costine, John Clancy and his wife Nancy, Thomas Clancy and his wife Kathleen, Marie Clancy, Maureen and her husband Richard Rate, Marguerite Clancy, Janet and her husband Patrick Cadogan (BPD), Karen and her husband Robert McNulty, Daniel Clancy and his husband Jason Poulin and the late Patricia Wilman. Beloved nephew of Marie Lombardi. Former husband of Kathleen Kelley. Richard is also survived by many nieces, nephews, cousins and friends.
A Mass of Christian Burial will be celebrated in Saint Gregory Church, 2223 Dorchester Avenue, Dorchester Thursday May 5 at 11:00 AM. Relatives and friends invited. Visiting hours at Dolan Funeral Home, 460 Granite Avenue, EAST MILTON SQUARE, Wednesday 3-8 PM. Interment Cedar Grove Cemetery.
Donations in Richard's memory may be made to The Angel Fund for ALS Research, 649 Main St., Wakefield, MA 01880 or www.theangelfund.org.