Gerard J. Joyce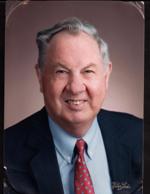 Gerard J. "Jerry" Joyce died on May 25, 2016.
He leaves a legacy of 96 years of joyful embrace of life, strong commitment to his Faith and active participation in the civic life of his community. Jerry always had a smile and a hearty greeting for everyone he would meet.  He provided a wonderful example for his family, as a man who was always optimistic and always saw the good in others.
Mr. Joyce was married to Marjorie C (Donovan) Joyce for 61 blessed years.  Marjorie died in May 2007. Jerry and Marjorie were the parents of 8 children: Gerard Jr. of Milton, Robert (spouse, Joanne) of Barnstable, Joanne Stanley (Spouse, Jack) of Milton, Elizabeth of Ostervile, Paul of Florida, Patricia O'Brien (spouse, Thomas) of Lexington, Christopher (spouse, Meg) of Jamaica Plain, and State Senator Brian (spouse, Mary) of Milton. Jerry leaves 18 grandchildren:  Matthew and his spouse Lynn and Michael Joyce, Joseph and his spouse Kate and Robert Stanley, Reverend Kevin Staley-Joyce, Lucas, Nina, Tomas, Dureti and Marisol, (deceased 2008) O'Brien, Seamus, Madeline, and Julia Joyce, and Jake, Mike, Maggie, Jimmy, and Andrew Joyce. Great-grandfather of Owen and Henry Joyce. Jerry is survived by his brother Eugene P. Joyce of Milton and also leaves his very special friend and fellow Fuller Village resident, Myrtle Flight.
Mr. Joyce was born in Roxbury on October 29, 1919.  He grew up near Dudley Square as part of a family of 13 children. He graduated from Boston English High School, and Boston College '42. Jerry was a Captain in the United States Army. Jerry and his family have resided in Milton since 1963. Jerry was a longtime Town Meeting Member and an active parishioner at St Mary of the Hills Church. Jerry was the President of the Milton Senior Citizens Club, and a very active leader at Fuller Village in Milton where he has lived since 2005.
The Family will welcome visitors at Dolan Funeral Home, 460 Granite Avenue, EAST MILTON SQUARE, Monday 4-8 PM. A Mass of Christian Burial will be celebrated in Saint Mary of the Hills Church, 29 St. Mary's Road, Milton, Tuesday May 31 at 11:00 AM.  Interment Milton Cemetery.
In lieu of flowers, the family asks that donations be made to The Foundation for Marisol's Journey (www.marisolfoundation.org)