Mary H. "Mollie" Herlihy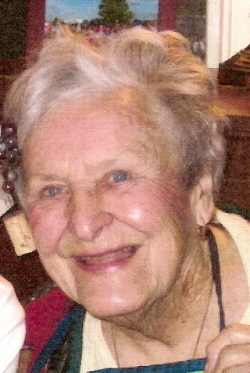 a longtime resident of Marstons Mills, died peacefully Thursday January 21.
Born in Boston, she graduated from Notre Dame Academy, Roxbury in 1939 and Fisher Business School, 1942. She was employed at Otis Elevator for six years as an assistant accountant, later as Deputy Tax Collector for the Town of Milton for twelve years. She had also worked for Citizens Bank, Cape Cod, for ten years.
A resident of Milton for 48 years, she was a communicant and member of the Guild at St. Mary of the Hills Church. Mrs. Herlihy moved to Marstons Mills in 1983. She was a communicant of Our Lady of the Assumption Church, Osterville and served on the Altar Society and the Guild. Mollie also volunteered preparing meals at Noah's, a homeless shelter in Hyannis.
Wife of the late Dr. John P. Herlihy. Mother of David, Joan, Michelle, Jonathan Herlihy and Maura Kinnealey. Stepmother of Jack Herlihy and Mary "Bette" Parker both of CA. "Adopted mother" of Deborah Hennessey. Sister of Paul, Catharine "Katie" and David and the late Henry and William Hayward. Mollie is also survived by six loving grandchildren; Kaethe, John-David, Patrick, Frederick, George Herlihy; Michael Kinnealey and the late Jay Kistler as well as three great grandchildren Marlew and Reed Herlihy and Loren Zorrillo and two step-granddaughters, Dianne Wright and Susie Kennelly of CA.
A Mass of Christian Burial will be celebrated in Saint Elizabeth's Church, Milton, Saturday January 23 at 9:00 AM. Visiting hours at Dolan Funeral Home, 460 Granite Avenue, MILTON, Friday 4:00 PM to 7:00 PM. Interment Milton Cemetery.
In lieu of flowers, donations may be made in Mollie's memory to either Jay Kistler Foundation www.jaykistlerfoundation.org or Our Lady of the Assumption Guild, Wianno Avenue, Osterville, MA 02648.