Virginia Katherine (Condlin) Rota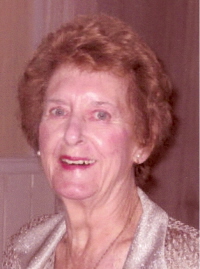 80 of Milton passed away peacefully at the Good Samaritan Hospital in Brockton on December 20, 2009 due to complications from congestive heart failure. Mrs. Rota was predeceased by her beloved husband Alfred B. Rota, Sr. and son Alfred B. Rota, Jr. and her brothers Ralph P. Condlin and John W. Condlin formerly of Randolph. She is survived by her daughter Major Paula Reynolds (U.S. Army ret.) and son-in-law Patrick of Columbus, Georgia, Maria Rota of Milton, Susan Romero of Waldwick, New Jersey, Sgt. John Rota of the Massachusetts State Police, dear daughter-in-law Julie Rota of Easton, devoted nephew R. Neal Condlin of Edgartown and many loving family members and friends. Mrs. Rota was the proud grandmother of Ryan Hanlon and his wife Elizabeth of New York, John Edward Leonti III of New Jersey, Francesca Romero of New Jersey, John Michael Reynolds of Columbus, Georgia and Christopher and Alexandra Rota of Easton.
After graduating from Stetson High School in Randolph class of 1947, Mrs. Rota worked briefly as a clerk for the Liberty Mutual Insurance Company in Boston and later for the Milton Public Schools and the East Milton Package Store but her true life's work was her family.
Mrs. Rota was known for her wit, warmth and generosity of spirit, which will be greatly missed. A deeply compassionate and caring person, she had been a regular volunteer at the Shattuck Shelter in recent years and supported a number of humanitarian missions in Africa. Due to declining health in recent years, Mrs. Rota had been lovingly cared for by her daughter Paula in Columbus, Georgia. She also leaves her devoted companion Tommy.
A Mass of Christian Burial will be celebrated in St Mary of the Hills Church, Milton on Wednesday, Dec. 23 at 10:00AM. Relatives and friends invited. Visiting hours at the Dolan Funeral Home, 460 Granite Ave. MILTON, Tuesday 4-8PM. Interment Milton Cemetery.
One of Mrs. Rota's wishes was to see a water well dug for the people of West Pokot, Kenya. Donations in her memory can be made to Harvesters International, P.O. Box 22549, Hilton Head Island, SC 29925.