Angie Gray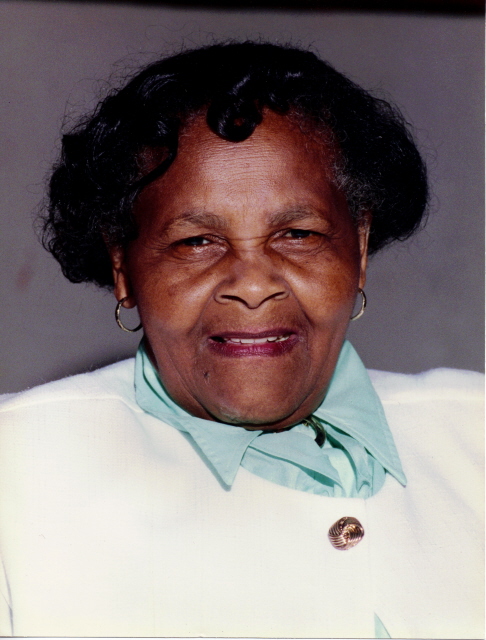 was born on November 26, 1922 in Pelham, Georgia to the late Arthur Johns and Martha "Mattie" Johns (Scott). She was the ninth of eleven children. She attended school in Georgia, where she met and married W.C. Gray. Her only child, Larry C. Byrd, was born in Pelham. Angie became a Jehovah's Witness in 1985.
Angie treasured being a loving and devoted mother, grandmother and great-grandmother. Her unconditional love also extended to her family and friends. She enjoyed cooking, embroidery, listening to gospel music and reading. Angie faced her lengthy illness with both courage and hope. Even in the darkest days she had a smile ready to share. She departed this life on Friday, November 6. She was preceded in death by her parents, Arthur and Mattie, six sisters – Lillie, Elzie, Delia Vicie, Mamie Esther, Arlena, and Marie, and three brothers – Alvin, Preston, and Timothy.
She leaves to mourn a son Larry Byrd (Brenda Byrd) of Massachusetts, a sister Maple Gary of Georgia, three grandchildren – Jennifer Brooks, Tonya Brooks-Taylor (Joseph Taylor) of Massachusetts, and Leneice Coffey of Texas, five great grandchildren – Takiesha Brooks, Jaquil Brooks, Jabari Taylor, and Jurnee Brooks of Massachusetts, and Kierra Robinson of Texas. In addition, she will be missed by a host of nieces, nephews, great-nieces, great-nephews, cousins, and friends.
Visiting Hours from the Dolan Funeral Home, 1140 Washington St., DORCHESTER LOWER MILLS on Tuesday November 10 4-8 PM. Relatives and friends invited. A Memorial service will be held Wednesday in Jehovah Witness Kingdom Hall, 230 Wood Ave., Hyde Park 6-8 PM.
If you wish to send flowers please send them to the Jamerson-Braswell Funeral Home, 176 Hand Ave., Pelham, GA 31779. Visiting Hours will be held Friday followed by a service on Saturday.