John J. McGee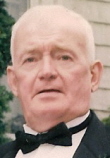 79, of Dorchester, formerly of Charlestown, died at Brigham and Women's Hospital on October 26, 2009.
Mr. McGee worked in the Maintenance Department of the MBTA and he was a late member of Teamsters Local 25, MBTA Local 589, the McKeon Post and the Old Dorchester Post. Mr. McGee also served in the US Army.
Beloved husband of Marie C. (Boushell) McGee. Father of Jack F. of Braintree, Kevin R. of Rockland, and Stephen M. McGee of Canton, Kelli M. Murphy of South Weymouth and Kerri A. Foley of Dorchester. John is also survived by 8 grandchildren. Brother of Robert M. McGee of Hanover and the late Francis and Daniel McGee.
A Mass of Christian Burial will be celebrated in Saint Gregory Church, Dorchester, on Friday, October 30 at 10:00AM. Relatives and friends invited. Visiting hours at the Dolan Funeral Home, 1140 Washington St. DORCHESTER LOWER MILLS, Thursday 4-8PM. Interment New Calvary Cemetery.