Joan M. (Manning) Kane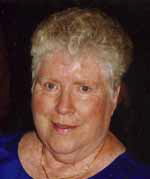 76, of New Bedford, formerly of Milton and Braintree, died peacefully on Sunday October 18, 2009.
Born in Milton, the daughter of the late Joseph T. and Stella H. (MacPhee) Manning, she lived in Milton and Braintree for many years
before moving to New Bedford in 2004.
Mrs. Kane was formerly employed by Aetna Casualty until her retirement.
Survivors include a daughter, Michaela Markey and her husband
Christopher of Dartmouth; a brother, David P. Manning of Abbottstown,
PA; four grandchildren, Clare, Nora, Declan, and Bridget Markey; and
many nieces and nephews.
She was the sister of the late Joseph R. Manning and Paul D. Manning
and the former wife of the late Russell Allsopp.
A Mass of Christian Burial will be celebrated in Saint Agatha Church, Adams Street at Brook Road, Milton, Thursday October 22 at 10:30 AM. Burial will follow in Blue Hill Cemetery, Braintree. Visiting hours will be on Tuesday from 6-8 PM at the Saunders-Dwyer Home for Funerals, 495 Park St., New Bedford and
Wednesday from 5-8 PM at Dolan Funeral Home, 460 Granite Ave.,
Milton.