Mary L. Warren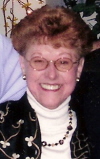 71, of Weymouth, formerly of Milton, died on July 29, 2009 at South Shore Hospital in Weymouth. Born in Boston, Mary lived in Dorchester and Milton before moving to Weymouth fifteen years ago.
Mary worked for Risk Strategies Inc. from 1999 until January of 2009 upon her retirement. She was the office manager and head of administration for that ten year period. Prior to Risk Strategies she worked at Alexander and Alexander in the Boston office. Both companies are leaders in the Insurance and underwriting industry.
She enjoyed traveling to Ireland and Bermuda.
Daughter of the late Thomas F. and Marie (Carney) Warren. Sister of Thomas F. Warren, Jr. and wife Elizabeth of Westwood. Aunt of Kathleen Reilly and husband James, John Warren and wife Gerri, Mark Warren and wife Susan, Brian Warren and wife Joanne, Nancy Glasheen and husband Kevin ,Greg Warren and wife Lorri. Also survived by many cousins and close friends.
A Mass of Christian Burial will be celebrated in Saint Mary of The Hills Church, Milton on Saturday, August 1 at 10:00 AM. Relatives and friends invited.
Visiting hours at the Dolan Funeral Home, 1140 Washington St. DORCHESTER LOWER MILLS, Friday, 4-8 PM. Interment Milton Cemetery.