Henry Daise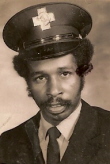 Ret. BFD, of Brockton, died after an illness at Brockton Hospital on February 1, 2009.
Born in Savannah, Georgia to Modell Duncan and Susie Mae Washington, Henry worked as a firefighter for the City of Boston.
Beloved husband of the late Gloria Bowen Daise. Father of Ajenee Daise and Khary Daise, both of Boston. Brother of Ernestine Meeks, Modell, Jr., Rose Marie, Melody and Eric Duncan, Susie, Robin and Donna Reed, Marcia Louissaint, Mary Johnson, Filene Cutter, Ervin Johnson and Roger Poole.
A Funeral Service will be held in Jubilee Christian Church on Tuesday, Feb. 10 at 11:00AM. Visiting hours will be held prior to the service, 10-11AM. Interment Oak Lawn Cemetery.
The Dolan Funeral Home of Dorchester is assisting the Daise family with arrangements.