Rose M. "Chickie" Naughton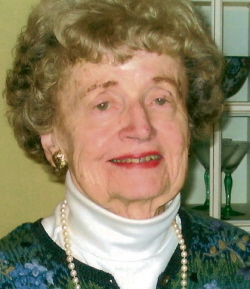 a resident of Milton for over 50 years, formerly of Osterville and Naples, FL, died Saturday January 17, 2009.
Beloved wife of the late William F. Naugghton for 67 years. Loving mother of William F. Naughton and his wife Eltha of Paradise Island, Bahamas and Stowe, VT, Robert J. Naughton of Providence, RI, and Brenda A. Johnson and her husband Buddy of Milton, MA. Sister of the late William Duggan. Chickie is survived by five grandchildren and three great-grandchildren.
A Mass of Christian Burial will be celebrated in Saint Agatha Church, Milton, Saturday, Jan. 24 at 9:00AM. Relatives and friends invited. Visiting hours at the Dolan Funeral Home, 460 Granite Avenue, MILTON, Friday 3-6PM. Interment Milton Cemetery.
Chickie was the President of the Milton Catholic Women's Club in 1971, Recording Secretary of Saint Mary of the Hills Church Guild, and a member of Archbishop Williams Mother's Guild and Fontbonne Academy Mother's Guild.
She also was a former member of Oyster Harbors Club in Osterville for 35 years and Wilderness Country Club in Naples, FL.
In lieu of flowers, donations may be made to the Saint Agatha Church Renovation Fund, 432 Adams Street, Milton, MA 02186.