George Edward Driscoll, Sr.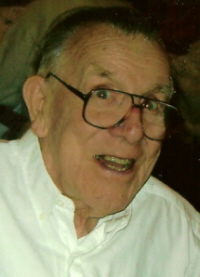 96, of Quincy, formerly of Milton, died on January 27, 2009 at Milton Hospital.
Born in Boston, George graduated from Dorchester High School for Boys and Burdett Business School of Boston. George owned and operated the Driscoll Hardware Store in Codman Square, and he was a member of the Codman Square Merchants Association, the Knights of Columbus and the Lions Club, all located in Dorchester.
In later years, George opened Driscoll Paint and Hardware in Quincy and also worked as a sales representative at Knollwood Memorial Park in Canton.
George was a resident of Milton for many years and he was active in the Holy Name Society at Saint Agatha's Church.
Beloved husband of the late Marguerite Pauline "Pat" (Collins) Driscoll. Loving father of George E. Driscoll, Jr. and his wife Dorothy of Marshfield, Kathleen M. Driscoll of Irvine, CA, Patricia A. Defina and her husband Jack of Waltham, Stephen M. Driscoll and his wife Julie of Milton and the late John Anthony Driscoll. Brother of the late John J. Driscoll, Jr., Frank Driscoll, Sister Mary Clementia, CSJ, and Arthur J. Driscoll. George is survived by 8 grandchildren and 6 great grandchildren and several nieces and nephews.
A Mass of Christian Burial will be celebrated on Saturday, Jan. 31 at St Agatha's Church, Milton at 10:30AM. Relatives and friends invited. Visiting hours at Dolan Funeral Home 460 Granite Ave MILTON on Saturday morning before the Mass, 8:30- 10:00AM. Interment Knollwood Memorial Park, Canton. In lieu of flowers, donations in George's memory may be made to Hancock Park Nursing Home Activities Fund, 164 Parkingway, Quincy, MA 02169.