Marie Célie Cyprien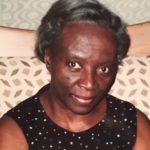 Marie Célie Cyprien "Madan Verty", of Brockton died peacefully on Thursday,July 13, 2017 at Hellenic Nursing Home in Canton, MA. She was born on January 21, 1935 in Grand Goȃve, Haiti, to Noncilus Fleuristal and Mathilde Jean Julien. She was the wife of the late Jean Sainvetu Cyprien. She is survived by her daughters Violette, Marie-Ange and her husband Mones Jr. Casimir, Belinda and her husband Etniel Aspelly, son Raymond and his wife Soeurette Cyprien, stepson Pierre and his wife Estella Brutus. She was the beloved grandmother of Christa, Karl-Raymond, Moise, Caleb, Sebastien, Matthew, Valerie and Christian. She is also survived by her brothers and sisters: Filgeance, Yvia, Efilia, Arnaud, Magloire, Ulysse, Jocelyne, Henry, and several nephews and nieces, among them Violita, Mirka, and Christa.
She was a dedicated wife and mother, a loving, caring person to everyone who had a chance to know her. She was hard-working, one of the strongest woman we know. She was the anchor of her family and instilled great values and a sense of purpose in our life. She was a strong advocate of Higher Education. She loved to read, go to church and always looking forward to her bible studies. She enjoyed cooking and talking to her friends and family. She is going to be missed greatly by us all.
The viewing will be from 5-8PM on Friday, July 21st, 2017 at Dolan Funeral Home, 1140 Washington St, Dorchester LOWER MILLS, MA. The Funeral Service will be held Saturday, July 22nd , from 10:30AM-12PM at Kingdom Hall of Jehovah's Witnesses 638 Pearl St, Stoughton, MA. Interment to follow at Canton Corner Cemetery in Canton Washington St, Canton, MA.
Reception is from 1-5PM at Generation Banquet Hall & Catering 81 Memorial Dr, Avon, MA. Relatives and friends are invited.